Für alle Swing-Freunde und die, die es noch werden möchten gibt es am Wochenende vom 8ten bis zum 10ten Juli ein umfangreiches Programm. Die Tanzschule Conny & Dado lädt neben der Welcome Party in der Postgarage zu weiteren grossartigen Parties, Live Bands und zahlreichen tollen Workshops!
Swingin´Graz 2016 from 8th to 10th of July is already waiting for you!:-)
William Mauvais & Maéva Truntzer (FRA)
Bernard Cavasa & Anne-Helene Bargain Cavasa (FRA)
Jessica Kaiser & Markus Kakuska (AUT)
Dominik Knoll & Nora Locher (AUT)
3 great Parties, three Live Bands and a lot of fantastic Workshops!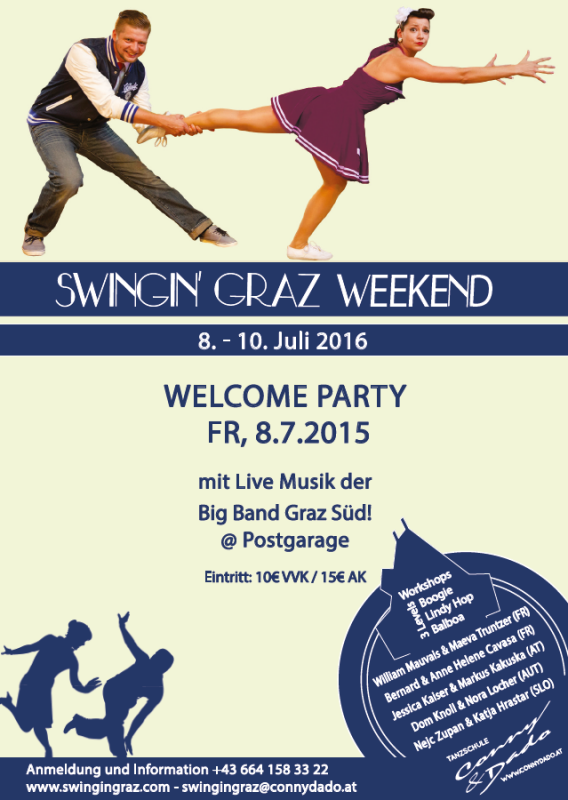 TIMETABLE:
FRIDAY, 8th of July
Welcome Party @ Postgarage
Start: 9 p.m.
Live Music: Big Band Graz Süd
SATURDAY, 9th of July
Big Party @ Danceschool Conny & Dado
Start: 9 p.m.
Live Music: The Knights Of Rhythm / Vitezi ritma
SUNDAY, 10th of July
Lindy Jungle @ Cafe Promenade
Start: 8 p.m.
Live Music: The SwingTones
You find all information at www.swingingraz.com
Keep on swingin… 🙂